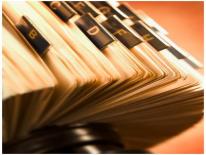 After establishing a case to receive child support, the process of managing a case begins. As each step in the process is completed, the case moves toward the ultimate goal: getting payments for the child(ren). It is important that the custodial party remains involved throughout this process to ensure that CSSD has the information necessary to keep the case moving forward.
Locating Parents
When the whereabouts of a parent who should be paying child support are not known, the CSSD will try use various methods to find that person.
The CSSD has the right to search for non-custodial parents by using records such as:
Driver's licenses
Vehicle registrations
Tax records
Employment security records (which show whether a person is on any employer's payroll in DC)
Records that show whether a person is getting any public benefit such as an unemployment check or Worker's Compensation
If the non-custodial parent cannot be located in DC, the CSSD will use other sources, including FPLS, in an attempt to locate the individual.
Establishing Parentage
There are several ways that parentage can be established for a child. The establishment of parentage is required before the case can move forward to the collection and enforcement phases.
Calculating Child Support
Child support in the District of Columbia is calculated using an exact formula set by DC law. The CSSD Child Support Guideline Calculator can be used to compute the amount that should be paid by the non-custodial parent.
Establishing an Order
The process of having a child support order established requires that a hearing be held at the DC Superior Court. On behalf of the customers, CSSD personnel will prepare a petition, and present it to the court during the hearing. Medical support will be part of the petition as required by federal and DC law. After an order has been established, there are situations that necessitate a modification to the order .
Enforcing an Order
After an order has been established, CSSD will begin enforcing it. There are several methods of enforcement that are utilized in an effort to get payments for the child(ren) on the order.
Receiving Payments
As a child support order is enforced, resulting payments are sent to the custodial party in accordance with DC law and CSSD procedures.
Modifying an Order
A meeting to review and adjust a child support order may occur every three years, or when a substantial and material change in the non-custodial party's ability to pay child support. To start this process, a motion to modify a child support order must be filed by CSSD.
Additional Information for Custodial Parties
$150 Pass-Through
District of Columbia law allows up to $150 of a non-custodial parent's (NCP) child support payment to "pass-through" directly to the custodial parent (CP) each month for cases on Temporary Assistance for Needy Families (TANF).
Change in Custody
When custody changes, parents or caretakers may have questions about how it impacts child support.
Domestic Violence
Domestic violence is one of the most dangerous and potentially fatal problems in our society. Domestic violence affects all communities, regardless of race, class, gender, age and sexual orientation. Like other jurisdictions, instances of domestic violence are increasing within the District of Columbia.

Although men can be victims of domestic violence, an overwhelming number of victims are women. Domestic violence raises safety and economic concerns, particularly for women. There is, however, help available to victims of domestic violence. The best weapon is the "weapon of knowledge," so know your rights.