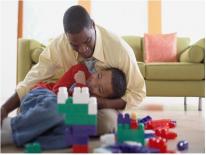 Non-custodial parents are responsible for providing financial and medical support to their child or children. Non-custodial parents bear the responsibility for paying all of the ordered child support. If payments are not being withheld from income, or if these payments do not cover the amount of the order(s), payments should be made by the non-custodial parent through one of the available payment methods.
There are several programs that are available to help non-custodial parents:
Fathering Court
The Fathering Court offers recently incarcerated parents who are delinquent in child support payments job training, counseling, employment services, and judicial access so they can better support their children. Participants will be educated, counseled, and encouraged to place their children's needs first.
Homeless Veterans Initiative
This initiative is aimed at enhancing service to non-custodial parents who are Homeless Veterans of the United States Armed Forces and have active child support obligations or still owe child support arrears.
Fresh Start
Fresh Start is an arrears forgiveness program offered to select non-custodial parents. If the non-custodial parent makes consecutive timely payments on the current support obligation or pays a lump sum payment towards arrears, a portion of the TANF arrears owed will be forgiven.
Employment Resource Center
The Employment Resource Center (ERC) is a referral-based program where CSSD refers interested customers to various local employment and job training/placement opportunities. Realizing that other factors may contribute to unemployment, we also referral customers to organizations who offer assistance to families in crisis in accessing necessary resources relating to food assistance, clothing, shelter and housing, as well as physical and mental treatment facilities. The participating organizations have an outstanding reputation for helping people find success.
Additional Information for Non-Custodial Parents
Civil and Criminal Contempt
The Court may hold a non-custodial party in civil contempt if he or she is not in compliance with the child support order and may order him or her to make payment or incarceration. If the Court finds that a non-custodial parent has willfully disobeyed a child support order, he or she may be held in criminal contempt, and face a jail term not to exceed 180 days.
Bench Warrants
When a party in a case does not appear in court after receiving notice, a bench warrant may be issued, and the party is subject to arrest. When a bench warrant is issued, it is better for an individual to surrender to the court than to be arrested.
Incarceration
Non-custodial parents who are currently or about to be incarcerated may take additional steps to help themselves by having their child support orders temporarily modified so that the month they owe every month is reduced or eliminated.